This mod replaces the AT400 in GTA San Andreas with a Qantas 707 as owned and flown by John Travolta.
The model was taken from simviation, then UV mapped, dummies tied to animated parts, then textured for San Andreas by [DRuG]NikT.
Updated to final release 13th June 2011:
- LOD model now matches plane
- Working ailerons
- Texture/Colours compatible with MTA and SAMP
- Perfected collision file (tuned so engines don't hit runway signs so easily)
- Totally refined model surfaces and textures (added smooth groups & retextured everything that annoyed me)
- Aileron animation refined lots
- Glass reworked on windows (interior cockpit now visible from exterior)
- Overall tuning of model (this is most likely the final unless some parts begin to annoy me)
- SOME PARTS ANNOYED ME! ?! so I also corrected the UV map so there isn't a line down the middle of the body's lighting
- Added flashing night lights on wings and rudder top
It is available in gmax format from
http://www.simviation.com/fsdesign_gmax.htm
The texturing and normals have been worked over so you can put writing on both sides, and to iron out some weirdly visible vertexes. The left and right sides of the plane are in separate images in the txd. The tail and rudders were modeled by me to work around a lack of tools for editing animations - the rudder and elevators in this plane are in fact very reworked vertexes from the AT400's animated parts.
The model was originally by George Carty (
GJCarty2002@yahoo.co.uk
), who converted it in GMAX from a 707-320B by Rok Dolenec (
p00pek@email.si
). I have obtained written permission from George (thanks mate!) prior to release. For this reason, while I authorise re-skinning of the aircraft (with due credit to myself, Rok & George), please refrain from altering the model.
Original Screenshots: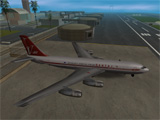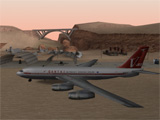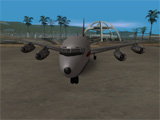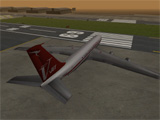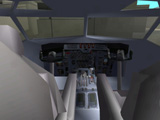 Updated Screenshots: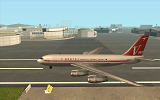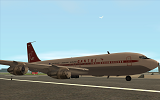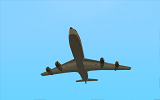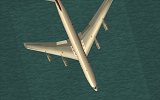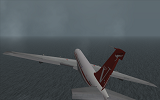 download now
Enjoy!