I made this one back in 2005 for Trackmania Sunrise - after recently returning to Trackmania United (their current version) I discovered the vehicle also works in it!! I've re-uploaded it to Trackmania Carpark for use in United.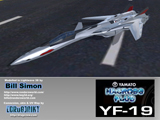 Manual install:
http://nikt.zog.net.au/yf19_nikt.zip
Link to TMUP & download page at Trackmania Carpark:
http://www.trackmania-carpark.com/car.php?id=2233
Enjoy!