Vice City Mosquito skimmer replacement
This mod replaces the Skimmer in GTA Vice City with a Mosquito.
The model was by Eumel3D from 3dkingdom.org then UV mapped, dummied up and textured for Vice by
[DRuG]NikT
.
It is available in 3DSMAX format from
3D Kingdom - click here to go there now
.
The polygons have been heavily reduced get this working in game - the original model was over 26,000.
The collision file & handling remain the same as the skimmer such that the mosquito behaves in the air identically as prior to installing.
At this stage, I haven't made the wings transparent, but plan to in a later release, along with a San Andreas version.
I have obtained written permission from Eumel (thanks mate!) prior to release. For this reason, while I authorise re-skinning (with due credit to myself & Eumel), please refrain from altering the model.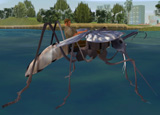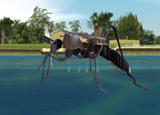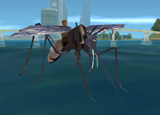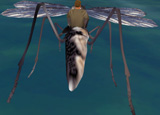 DOWNLOAD NOW:
Vice Mosquito
Don't left click the above download link, right click and select "save as".

Enjoy!
---
Holy shit this came out looking alot better than i thought it would its peanut butter mosquito time ...


---
I told you lready, thats fuckin sick

Evo (15 Aug 2005 03:04 pm)